Last year, the iconic Bobby's of Bournemouth reopened its doors as part of the first phase of activation. Careful restoration, a fun customer experience and an ethical ethos were all pillars of this extraordinary project that saw Bobby's of Bournemouth brought back to life last September.
Since then, the store has gone from strength to strength with Bobby's Beauty Hall, DRGNFLY Sushi & Champagne, Ice Cream Parlour, South Coast Makers Shop, Art Gallery and The Venue Beauty Salon all part of the new experiential shopping destination.
However, opening a store at pace during lockdown undoubtedly gave the team at Bobby's a unique set of challenges. We spoke to Andy Birt, General Manager & Director at Bobby's, about his experiences of finding the right retail system for them.
What led you to choose Swan?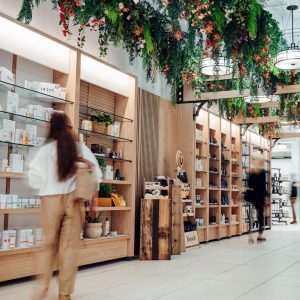 "We were starting the business from scratch and, like most searches, we began by looking online. We were met with a host of EPoS and retail management systems but soon became frustrated at being pushed into an off-the-shelf package. There are a lot of one-size-fits-all options, but we needed something that suited our needs at that time and could adapt with our plans for the future.
"Then we found Swan whose approach was the opposite to the others. They said, "tell us about your business, your culture and how you want to operate" and treated us as an individual client with specific requirements. Plus, we liked the fact they were a local business – a key part of Bobby's values is to support local suppliers.
"We knew what we wanted but needed the expert knowledge of the Swan team to make it a reality."
How have you found working with Swan?
"From the first meetings with Clare and David, through to the site visits with Iain, the team were very knowledgeable and able to support us with the whole set up, not just implementation. Even now, months after we went live with SRS [Swan Retail System] and Cygnus EPoS, the relationship and level of care is still there with extra training when we need it.
"As a new business in uncertain times, we've received genuine help and support from Swan.
"As for the solutions, we wanted to future-proof ourselves with a system that could grow as we do. The whole collection of products from Swan can be tailored to suit both what we need now and in the future.
"SRS is very comprehensive and the suite of information you can pull from the system is really wide. We particularly like how you can extract the data you need and format it in as basic or complex way as you like. Again, the Swan team were great at helping us learn how to get the best from the huge array of functionality the system has.
"Having Swan's till software on tablets and mobile ClearAccept PEDs meant we could open a pop-up Christmas market that could trade via Wi-Fi. This kind of flexibility is important to us as we continue to develop the business.
"Swan has the solutions we need, but what makes it really great is the people and the support they provide."
What does this mean for Bobby's?
"In terms of day-to-day retailing, it has given us simplicity of operation. From the start of the day to banking at the end of the day, Cygnus and SRS are simple and user friendly. The system does so much automatically and is much less task driven than others.
"This means we can spend more time creating quality experiences for customers. And, if there is any one of our team away, the system is so simple and easy to use that someone else can step in without a problem."
What does the future have in store for Bobby's?

"We have big plans for Bobby's in the next phase of restoration where we will activate another two floors. The store's iconic fascia will be taken back to its former architectural glory over the next few months. And the art gallery [the UK's largest artist-run gallery space outside London] will also be refurbished and new exhibitions installed. The focus will be on activating the first and lower ground floors to expand our retail and food offerings and build on Bobby's as an experiential shopping destination."
We can't wait to see the next phase of Bobby's come to life. Find our more and stay up to date at Bobby's of Bournemouth.