The modern baby store, huggle, have gone live with a fantastic new Shopify website fully integrated with TRIMS after moving on from Magento 1.
About huggle
Established in 2010 by co-founders Rachel and Jason Heller, huggle is the product of extensive research, first-hand parenting experience and impressive careers in sourcing and marketing.  
The couple have positioned huggle as offering stylish, modern and healthy products loved by parents. Born from experiences of poor retail customer service and narrow choice of baby products after the birth of their first child, Rachel and Jason's new, uncompromising approach is proving successful. Their spacious store in northwest London boasts two floors of products, baby classes in the huggle lounge and a huggle café. 
Magento 1 to Shopify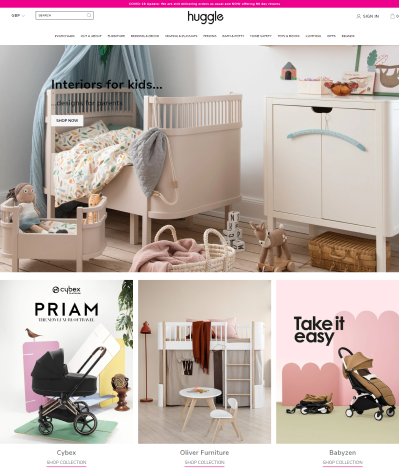 Despite their stores being closed currently, huggle are trading on their new site and have hit the ground running following its launch. Their TRIMS retail system, from our Touchretail team, was previously linked with Magento 1. We spoke to Jason about the move from Magento 1 to Shopify and what this means for the business. 
What made you move to Shopify for your new site?
'We decided to re–platform from a Magento 1 site that was coming to the end of its life and which was no longer being supported. Shopify felt like the most suited option for our business and has great functionality, as well as the ability to scale easily. It also integrated well with our current EPoS system [TRIMS] and marketing software.' 
How has the integration between TRIMS and your eCommerce store been?
'The integration with TRIMS has been fairly seamless and the Touchretail team have been on hand to help with any issues or queries that have arisen following our go live.  

We have obviously launched at a challenging and unprecedented time with both our retail stores currently closed, but are confident that TRIMS and Shopify will ensure that we are well placed to weather the storm and grow our online business (both during and after).' 
What does the Shopify and TRIMS combination mean for huggle?
'The integration has allowed us to automate much of the work that drains a business of our size and with a limited resource. It also allows us to make the most of some of the newer relationships that Touchretail have established with Klarna – we are very much looking forward to going live in the coming weeks.' 
See huggle's new, stylish, easy-to-use site here.
We, and our team at Touchretail, are excited to continue working closely with huggle and to see their success grow. 
Find out more about our integrated eCommerce solution.