Robinsons of Bawtry, a high-end independent fashion retailer, recently connected their new Shopify ecommerce site to TRIMS. The integration eliminated "one of the most time-consuming and tedious tasks".
Designer Fashion Since 1986
Robinsons of Bawtry are official stockists of many high-end clothing labels and are previous winners of Drapers' Premium Fashion Independent of the Year. The elegant store is set in a sophisticated market town where the family-run business is committed to supporting the local community through impressive charity events and more.
eCommerce with Shopify & TRIMS
Our team at Touchretail connected Robinsons' existing TRIMS system with their new site via their Shopify integration. We spoke to James at Robinsons to get his feedback on their new venture.
Why did you choose the Shopify ecommerce platform?
"It was quick and easy to create the website and I knew Touchretail had a plug-and-play connector."
How was your experience of the TRIMS / Shopify connector?
"The connector takes away one of the most time consuming and tedious tasks of running an ecommerce and physical store, that is entering stock values and quantities. From previous experience of working an ecommerce store and physical store, this is a huge drain on resources.
The TRIMS/Shopify connector works nicely to port over key information and to keep records updated and accurate."
What does this mean for Robinsons?
"We launched our ecommerce site out of necessity due to lockdown restrictions, but now see click and collect and free local delivery as new strings to our bow to generate business going forward.
Since launch we've done around £10,000 in sales from a very limited range of stock listed on our website and limited marketing activity."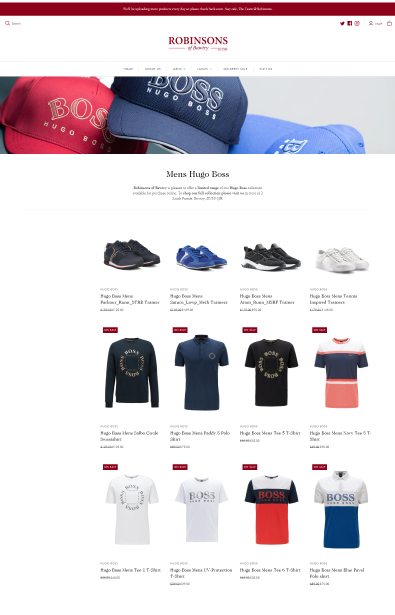 Check out Robinsons' new online shop, we can't wait to see them develop and grow online.