Cygnus, our electronic point of sale software, has been catching the eye of major football clubs over the past few months and we examine why below.
The pandemic has been a catalyst for change and made clubs re-evaluate their retail offering. Fans expect clubs to deliver the omnichannel experience and deliver it fast. Cygnus is all about speed and customer-centricity and so fits well with the changing needs of sports club retail.
What does Cygnus POS have to offer Football Clubs?
Cygnus has been built specifically to tackle all of the key requirements in the sports retail sector. It is new and built from our knowledge and experience in this sector.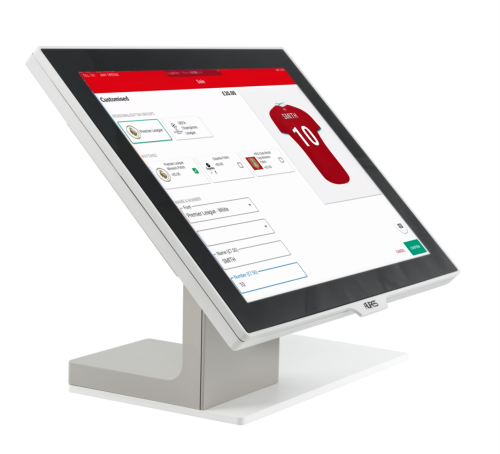 We want our clubs to be able to delight customers at the checkout. That means a fast, efficient transaction with the fans' best interest at its core. This is achieved by Cygnus in a number of ways. ​
Reduced transaction processing time down to 7 seconds on average
Fast delivery from Cygnus to back office ​in 0.02 seconds
Comfortably handles thousands of transactions per second​
'Best Deal Possible' promotion intelligence​ – fans get the most out of their rewards
Cross-channel purchase history – a single customer view​
Kit Builder – processes custom shirt printing requirements
Match Day Mode – even more efficient transactions for increased sales throughput
Customer-facing media – inspire fans at the point of sale
Option to integrate your Loyalty App – reward wallets, receipts and targeted offers​
What impact do Cygnus POS features have on Football Club retail?
We focused on reducing transaction processing time by minimising the number of taps needed, making the interface aesthetically uncomplicated and streamlining our software. With a transaction able to go through to the back office in 0.02 seconds and the ability to comfortably handle thousands of transactions per second, Cygnus is powerful and scalable. ​
Next, we worked on presenting in-store fans with the best deal possible. Cygnus has the ability to combine all current discounts and offers in a way that means the fan pays the least. This feature puts fans first and conveys honesty and value from the club. ​
Cygnus can also show fans' loyalty scheme balances and rewards from cross-channel purchase history, linking online and in-store purchases against a single customer account. ​
Another stand-out feature is Kit Builder which was designed specifically for our sports clubs:
"Kit Builder is another positive option on the till system. It allows us to increase transaction speed at busy periods such as match days and kit launches" – Richard Prosser, SCFC.
But, it is not only at the till that we are allowing football clubs to enhance their fans' retail experience. Cygnus integrates with our mobile loyalty app, FUSE. The two synchronise reward wallets, purchase history, email receipts and other customer information as well as any promotional incentives. This combination drives the omnichannel experience and creates a thorough record of customer behaviour; a single customer view. Football clubs can gain insights from this complete picture and act on them to enhance their fans' journey, loyalty and retail revenue.
Find out more about our Sports & Stadiums solution or get in touch to see how we can revolutionise your sports retail.