After moving online during lockdown, Raemoir have taken the next step by linking their retail system to their ecommerce platform.
About 
Raemoir
 Garden Centre
Based in Aberdeenshire, Raemoir is one of Scotland's leading garden centres that prides itself on the ethos of their founder, Dr Mair, to listen and learn from their customers. The GP was a keen amateur gardener that set up the centre almost 20 years ago to address the lack of resources for like-minded locals. It has since become a well-established business that offers customers a destination experience whilst maintaining a personal service. 
Opening an eCommerce Avenue
Opening new channels to reach customers has become essential for many retailers during lockdown. Raemoir Garden Centre did this by creating an online shop using Shopify, enabling them to continue trading safely. Once they could reopen, the next step was integrating their existing Swan Retail System (SRS) with the ecommerce site to make operations more efficient. 
Chris Draper, project consultant at Swan, explains that "configuring the products in SRS, and linking the system to their website, allows the team at Raemoir to maintain the products in one location and have orders processed directly into SRS". 
Moving Forward with SRS & Shopify
We spoke to Carol Thomas at Raemoir Garden Centre about their experience of having an online presence and integrating their retail system.  
"The main reason that we set up an online store initially was so that we could continue to trade during the lockdown. However, it became apparent that working solely from Shopify once we reopened would not be sustainable so an integration with Swan would be essential to move forward. I had been in contact with David Thompson at Swan early on during the lock down period and he had mentioned that the integration was possible. 
Connection with Swan and Shopify went well, we did encounter one or two issues, but we received excellent support. Chris Draper and our consultant worked together to iron out any minor issues and thankfully we did not need to close the website during this period. 
For a number of years, we had talked about setting up an online store, however the current situation made it essential. Although we have now reopened the centre, we still have customers that are not able to visit and this is just another avenue for us to reach and service our customers. We are still on a learning curve with the online store and will develop and refine the site during the coming months."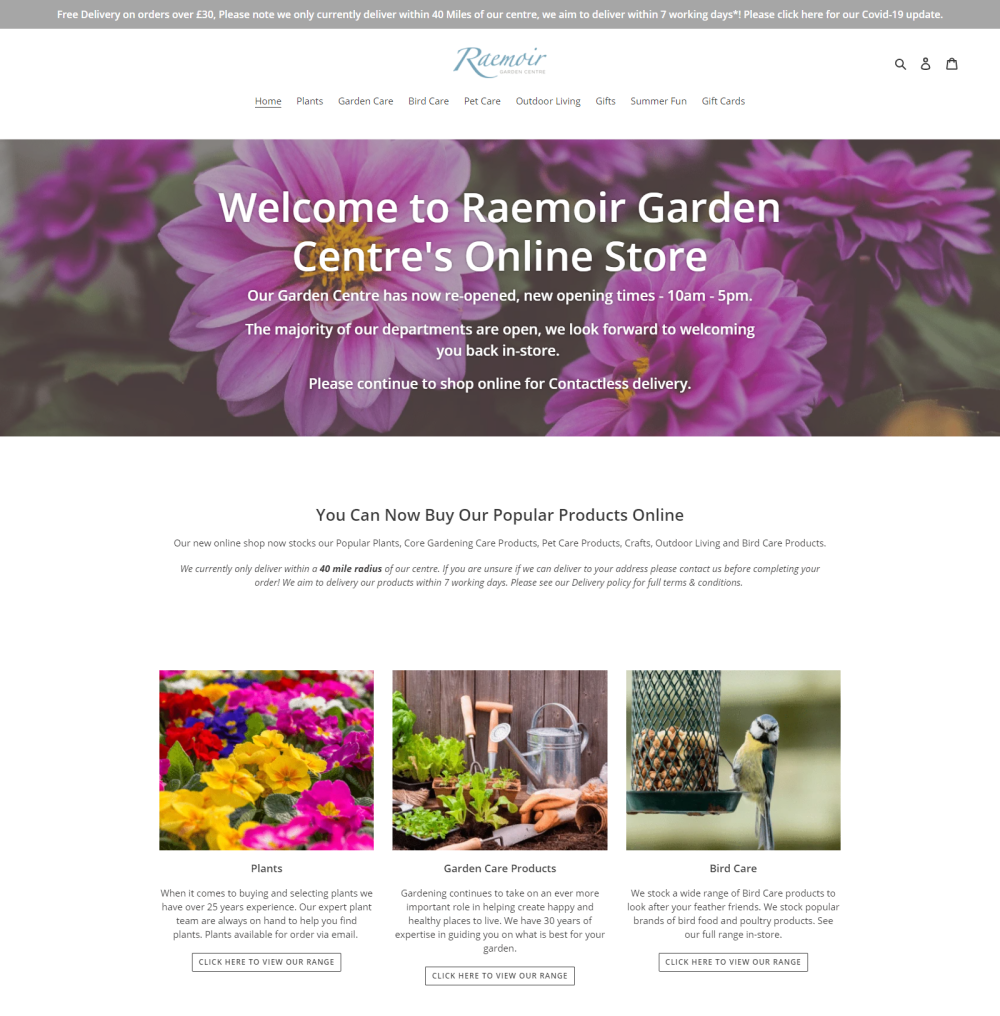 Take a look at Raemoir Garden Centre's online shop. We wish them every success with this new avenue and look forward to seeing them grow. 
SRS is designed with the needs of the garden centre sector in mind. Find out more about our garden centre solution or get in touch with our team today.